Discontinuous research on Captain Beefheart and the Magic Band since June 1994.
Albums - Lyrics - Messylaneous - People - Vendors - About HPR - FAQ - Links
---
Shiny Beast (Bat Chain Puller)
Song list:


The Floppy Boot Stomp
Tropical Hot Dog Night
Ice Rose
Harry Irene
You Know You're A Man
Bat Chain Puller
When I See Mommy I Feel Like a Mummy
Owed T' Alex
Candle Mambo
Love Lies
Suction Prints
Apes-Ma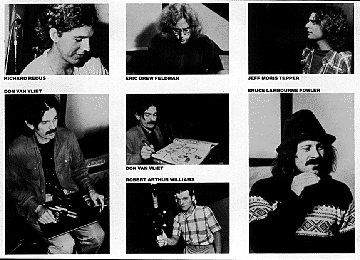 These pictures are printed on the record sleeve.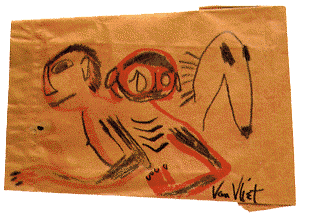 This paper bag illustration appears on the back of the CD and the record.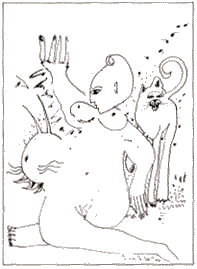 This illustration is from the CD booklet, and also appears as a black on yellow illustration on the CD itself.
1980 UK Original on Virgin V2149
1985 UK Re-issue on Virgin OVED 68
1978 US Original on Warner Bros BSK-3256

PROMOTIONAL COPY NOT FOR SALE in circular logo stamped in gold on front cover - normal record although appears to have different matrix - plain paper inner
standard issue

1981(?) Australian Original on Virgin V2149 by CBS Records Australia Ltd. (CBS MX 194968/9) - White Label Promo with This record is manufactured for the purpose of promotion only. It remains the property of CBS Records Australia Limited and is not for sale printed on centre label and stamped in gold on cover. Inner sleeve has lyrics, drawing and photos of band and Copyright control 1981 at lower right.