Discontinuous research on Captain Beefheart and the Magic Band since June 1994.
Albums - Lyrics - Messylaneous - People - Vendors - About HPR - FAQ - Links
---
1977 BLORP ESETTE volume one on L.A.M.F.S. 5 - Various Artists Compilation Album from Los Angeles Free Music Society with tracks by dr. odd, electric willy, smegma etc etc has Don Van Vliet artwork - says on back cover and label art-don van vliet. Front Cover art is black pen on white with blorp esette in speech bubble and Van Vliet 75. Has lafms records lower right. B side of label has wild life abstract shapes in black + red pen on white with L.A.F.M.S. Van Vliet ©77 Gerry read that BLORP ESETTE volume two has the same artwork.
1980 US 7" Car Noise/Her Blade by EAZY TEETH on Dental Records DR 001 - w/PS featuring Van Vliet 80 original EAZY TEETH drawing (black felt tip on white). Band is Paul Young ex-Beefheart Roadie, Robert Williams ex-Beefheart Drummer and Tito Larriva on Vocals. ©1980 Dental Records.
1981 UK Reissue of ZNR Barricade 3 on Recommended Records R.R.7 Album by French band ZNR has Don Van Vliet artwork on front of a lyric/info folded insert - printed in Silver on Blue and has Van Vliet 75. Album does not have sides but FACE `SERPENT' and FACE `RAT'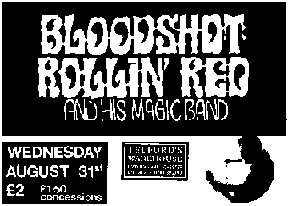 (No idea where this picture is exactly from - something Gerry sent me.)
Named Afters
1982 UK Picture Disc of THE JUDGEMENT IS THE MIRROR by Dali's Car on Paradox Records DOXY 1 - two Japan and Bauhaus members in one off release - also LP.
1988 UK WEBCORE WEBCORE by WEBCORE on FREUD22/ARK32 - WEBCORE's second cosmic album.