Discontinuous research on Captain Beefheart and the Magic Band since June 1994.
Albums - Lyrics - Messylaneous - People - Vendors - About HPR - FAQ - Links
---
Insert Title Here
| | |
| --- | --- |
| Song list: | |
The Mystery Band
This new CD from The Mystery Band has Beefheart influence written all over it; The musicians include Rick Snyder, former bassist for the Magic Band, and Ace Farren Ford, a huge fan, from what I've heard. (The other band members may have links to Beefheart too - I don't know.)

In any case, the album is a strange mix. For instance, the first musical track "Espionage" starts well, with the band playing together very well. When I first heard the vocals start, however, I was startled by the harshness of the singer. The wonderfully smooth sound the band had was jarred by the sound of his voice. (No specific credits were given for which singer it was.)

This mix continues on throughout the album with different members singing for different songs. Sometimes the voices mesh, like on "El Camino Real", and sometimes it distracts, like on "Chow N' Plow". I'm not sure if this contrast is on purpose or not.

In any case, the musicianship is excellent. There are songs like "Paddy Doyle" and "100 Years Ago" that are a capella, which also strangely work within the structure of the album. The music is relatively "normal" in that it does not lapse into anything difficult - it's modern without being esoteric.

The best selection on the album, in my opinion, is obviously Beefheart-influenced. The poem "Wanderlust" is spoken over faint background noise, and sounds much like the unreleased Captain Beefheart poem "Seam Crooked Sam". However, it stands on its own as a work and is not just a remake.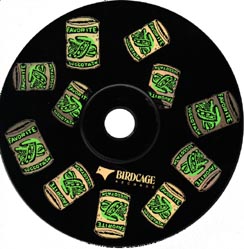 The CD itself has primitivist art all over it, with a clever feature: Since the title of the album is "Insert Title Here", a small sticker sheet is included with which you can quite literally insert the title over where it is printed within the CD case. Each sticker strip has titles like "I Sink, Therefore I Swam", "Around the Spectrum Peppercorner", and "The Mystery Band's Self Titled Debut Swansong".
All in all, this CD has 21 selections (not all are songs), all the lyrics printed in the booklet and the above mentioned stickers, plus excellent production quality. It's quite a lot for the price.
Here's the URL for the band:
http://www.greenheart.com/birdcage/mb_017.php
Here's the ordering information from Birdcage:

To order the CD, send a check or money order for $12.00 US to Birdcage Records On-Line, PO Box 784. Sierra Madre, CA 91024-0784 USA. This price includes postage in the US. Canadian orders add $1 per item. All other foreign orders add $2.