Discontinuous research on Captain Beefheart and the Magic Band since June 1994.
Albums - Lyrics - Messylaneous - People - Vendors - About HPR - FAQ - Links
---
The Early Years
Song list:


Whirlpool
Maltshop
Metal Man
Blues Jam
Out of the Frying Pan
Almost Grown
Call On Me
Sure Nuff
Moody Liz
Korn Ring Finger
China Pig
Well Well Well

1995 Bootleg CD The Early Years 1959-1969 on BEEF MUSIC BF-5969, EEC is a superb 71 mins trawl thru' mostly rare and unreleased stuff from the A&M, Buddah and early Straight periods - starting off with pre-Magic Band cuts ``Whirlpool'', ``Maltshop'' and ``Metal Man''. All 5 of the Avalon Ballroom 1966 broadcast cuts including the brilliant ``Blues Jam'' absent from the 4 track Boot EP. Then the alternate version of the '66 A&M``Out of the Frying Pan'', the Chuck Berry cover ``Almost Grown'', the slow version of the `67 Buddah ``Call On Me'', the John Peel BBC Radio One session version of ``Sure Nuff'', then onto ``WRAPPER'' cuts from late '67 with an acetate version of ``Moody Liz'' and the one track missing off Sequel's CD - ``Korn Ring Finger.''. There are fantastic highlights of the early '69 non-studio Trout Mask Rehearsal Tape including the full throttle recording of ``China Pig'' with Don Vliet singing ``Candy Man'' to Doug Moon's guitar - final track is ``Well Well Well'' sung by Rockette Morton!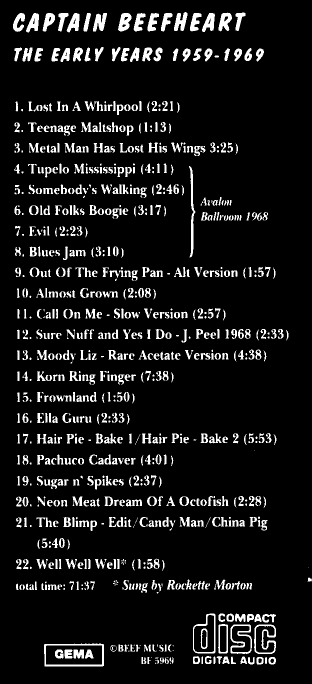 1995 European on Beef Music BF-5969